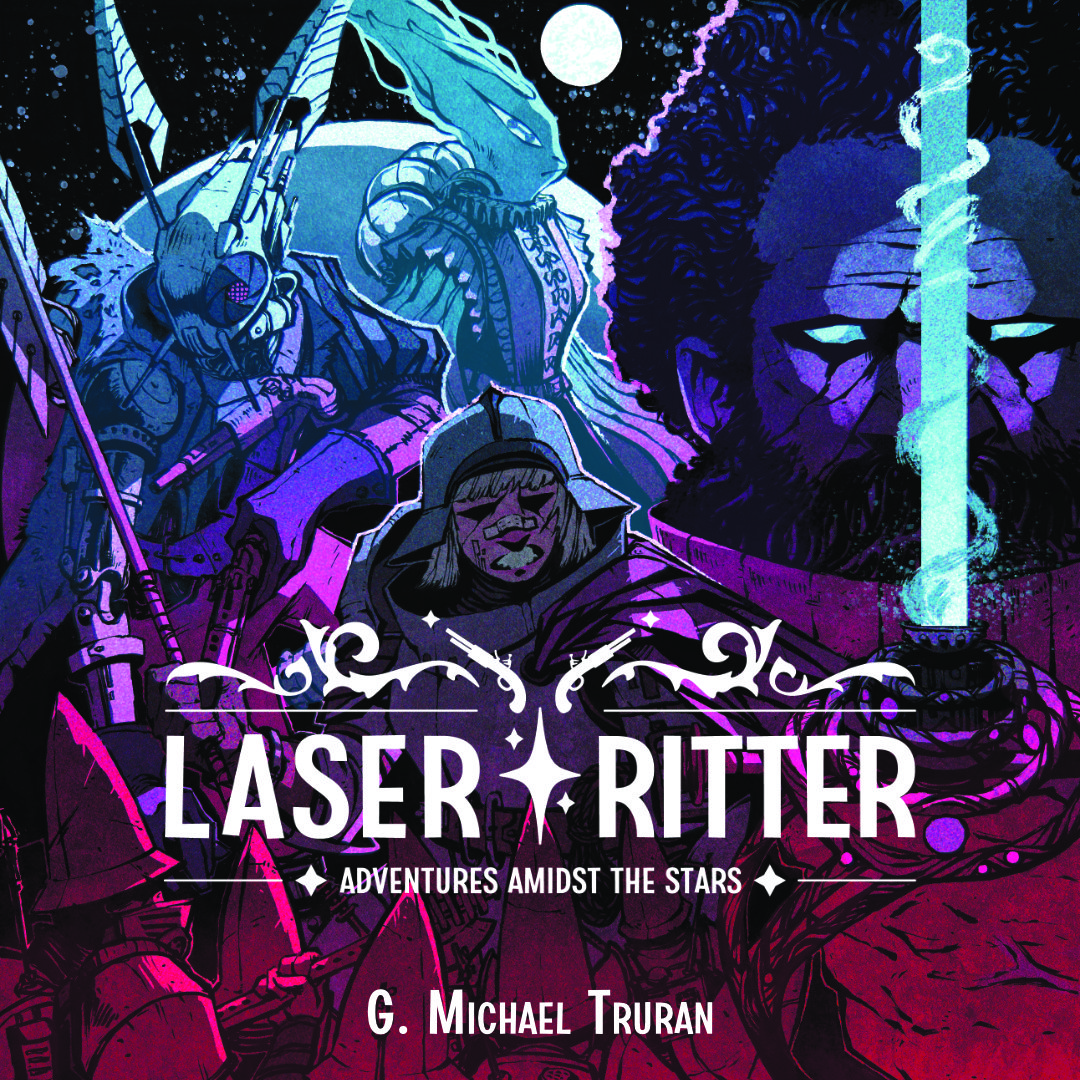 Laser-Ritter ASHCAN EDITION
A downloadable ashcan game
Laser-Ritter is an analog adventure game about swashbuckling heroes journeying among endless stars to embrace their destiny. There are rendezvous in hazy tap rooms, chases across distant moons, and showdowns with the forces of galactic evil. We play to find out how our Laser-Ritters follow their passions and face their pasts to triumph over adversity.
Create Your Own Galaxy of Adventure!
Laser-Ritter gives space for you to create your own saga. There's no burdensome timeline of canon events or overwhelming lists of characters, spaceships, and alien species to be contradicted. Every group begins their saga by creating their own dramatic title crawl to establish what's happening when the adventure begins!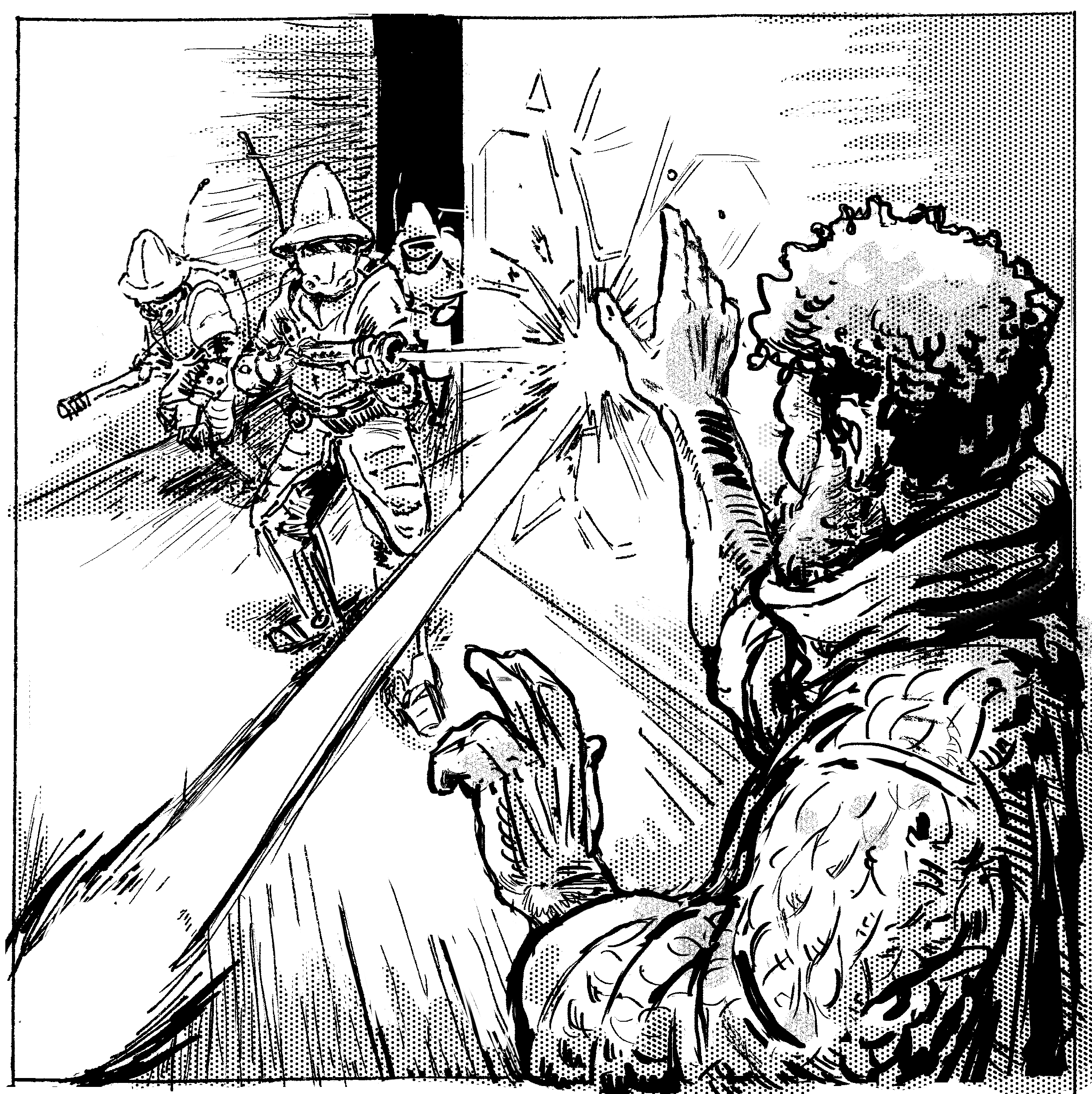 Easy Rules with Space for Kit-Bashing
Laser-Ritter uses a simple system designed to be familiar to old hands while welcoming to new players. It's kept lean to give space for each group to make their own rulings and modifications to suit their needs and preferences. The ample margins of the document give you space to annotate right in the book!

Included Materials
Laser-Ritter includes:
A core rule book PDF illustrated by Felix Miall, Charles Simon, and Oliver Schirmacher.
A PDF containing playbooks for five Callings: the Freebooter, Scoundrel, Mystic, Counselor, and Teknos.
Required Materials
To play, Laser-Ritter requires:
These rules, printed out or on a laptop or tablet.
A printout of the Calling playbooks.
Scrap paper and pencils.
Dice! For each player: three ten-sided dice, two in a matching color. For the table: a few six-sided dice.
Something to use as tokens: poker chips, bottle caps, glass beads, extra dice, etc.
ASCHCAN EDITION
This is a fully play-ready proof-of-concept/playtest version of the game. The rules will change and expand based on player feedback. If you read or play Laser-Ritter we want to know your thoughts! Please leave comments here in the community discussion board, on Twitter @Bad_Quail, or by email to the.bad.quail@gmail.com.

Credits
Created by G. Michael Truran.
Cover Illustration by Felix Miall.
Logo by Amber Seger.

Interior Illustrations by Oliver Schirmacher & Charles Simon.
Purchase
In order to download this ashcan game you must purchase it at or above the minimum price of $15 USD. You will get access to the following files:
0.3_Laser_Ritter_01_Core_Illus.pdf
18 MB
0.3_Laser_Ritter_02_Calling_Playbooks.pdf
129 kB
Exclusive content
Support this ashcan game at or above a special price point to receive something exclusive.
Community Copies
If you can't fit Laser-Ritter in your budget for any reason, help yourself to a community copy!
New copies are added for every full price sale of the game.

Download demo