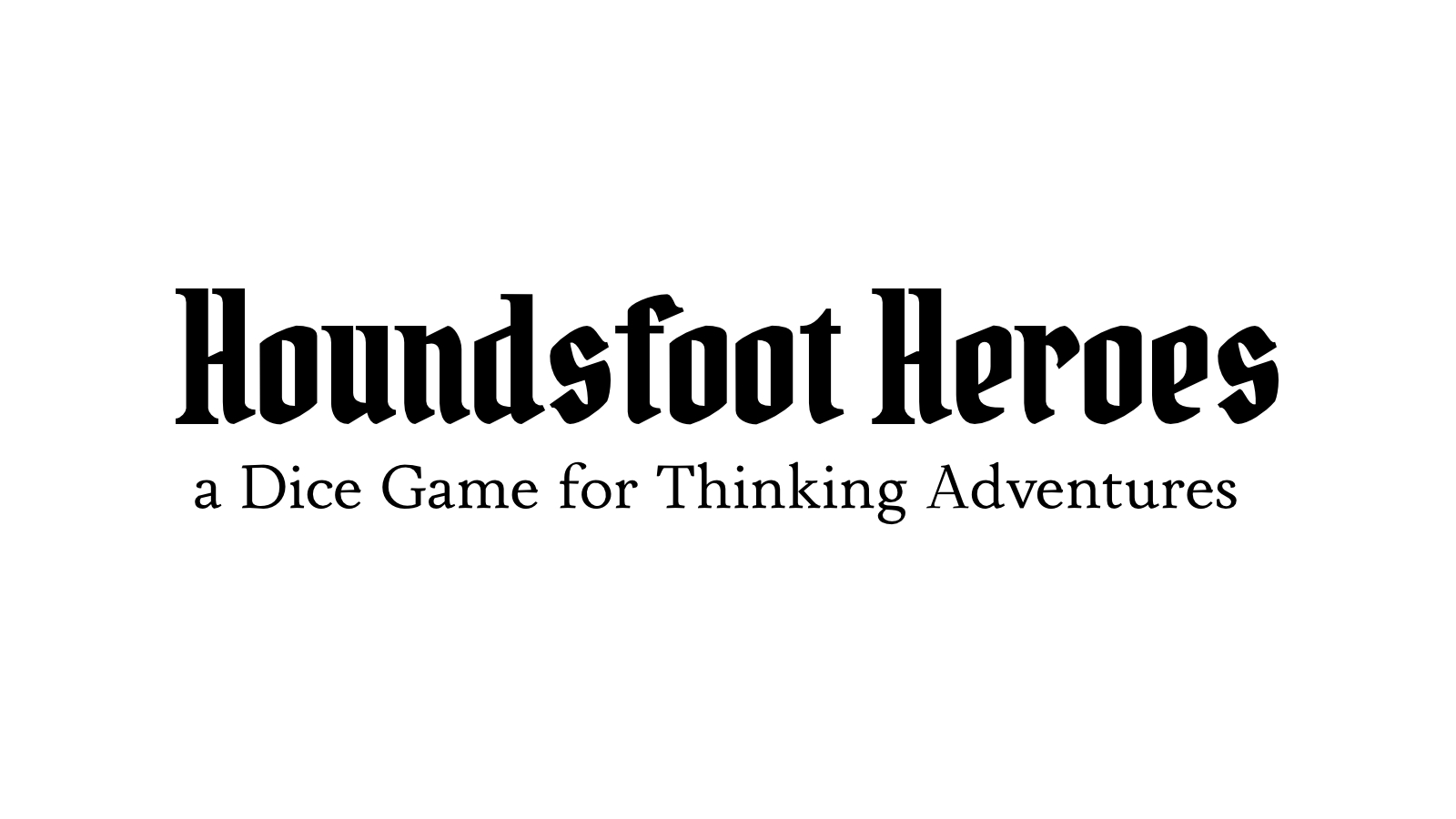 Houndsfoot Heroes: the Ashcan
Houndsfoot Heroes is a Dice Game for Thinking Adventures.
Take on the role of daring Freebooters and canny Sorcerers venturing through the hardscrabble post post-apocalypse of Green Abyssia, a world of sparse inhabitable enclaves reaching up from a bottomless riot of indifferent redwood and carnivorous brier that swallowed the World that Was. There are petty warlords, plant zombies, airship vikings, wizard sweatshops, and a fleet of jackbooted, rent-seeking hyper-capitalists. We play to find out what sort of mischief and adventures our heroes will embroil themselves in, and if they have what it takes to come out on top.

154 page PDF.
For 3-5 players or more.
Plays for one or more 2-6 hour sessions.
Requires twenty- and six-sided dice.
Features:
An elegant roll-under d20 resolution mechanic in the tradition of modern, minimalist takes on classic dungeon fantasy.
Lifepath character discovery that fairly randomizes ability scores and ties characters into the world of Green Abyssia.
Two character classes Heroic Callings: the Freebooter and Sorcerer.
36 wondrous Spells.
28 perilous opponents, with guidelines for converting monsters over from classic dungeon fantasy games.
A sample adventure and dungeon.
It'll probably run Keep.
Credits:
Created by G. Michael Truran.
Dungeon Cartography by William Ransom.
Illustrations by The Public Domain.
The Chapel Bastion hex map was made using Hex Kit by Cecil Howe with HPS Doodle Tiles by Nate Treme.
Ashcan
Houndsfoot Heroes is a proof-of-concept. It is a fully functioning game, but may be subject to extensive changes and development in the future.

Purchase
In order to download this dice game you must purchase it at or above the minimum price of $15 USD. You will get access to the following files:
0.1_Houndsfoot_Heroes_Core.pdf
71 MB
0.1_Houndsfoot_Heroes_HeroSheet.pdf
59 kB